Participation corner
Are you a young activist and want to acquire new skills, network with other young people and organise events and activities for your community?
The MEET project (Mobilise Europe = Engaging Together) is designed to engage young people in European democracy ahead of the European elections 2024. This is your opportunity to actively participate and shape the future.
The MEET project aims to:
Provide young activists with the tools and training they need to become more active in their democratic participation.

Create spaces where citizens from different backgrounds can connect with and learn from each other, acquire civic skills and learn more about the European Union and its role in their everyday lives.

Create opportunities for young people to enter in a dialogue with politicians ahead of the European elections.
Debating Europe
The first pillar of the MEET project is all about training for staff, focusing on disadvantaged youth inclusion, and empowering citizens with debating skills and critical thinking.

Stemming from the Conference on the Future of Europe (CoFoE), 8 regional debates will be organised by our member organisation, JEF Europe, focusing on the upcoming 2024 EU elections. Election related topics such as lowering the voting age to 16, bridging generational gaps in voting, and promoting diversity in politics will be vigorously debated.
The 3 best competitors of each debate will then compete in a European level debate.
More information coming soon.
Broadening Europe
The second pillar of the project begun with The Youth Forum Academy, a three-day capacity building training for youth organisations which took place in June 2023 in Belgium. In July, we teamed up with PROM in Lublin, Poland, for a hands-on Events Management Training. Coming up we've got five insightful workshops on how to organise Europe Participate Festivals (more coming soon). Finally, 15 Democracy festivals, spread across five regions – South, West, North, Central-East, South-East Europe – will act as hubs where citizens of all backgrounds will be able to connect, share, and discuss, making sure everyone's voice is heard.

Democracy festivals
Soon you will be able to join one of our 15 democracy festivals. These are events where different groups of people, including young, old, and marginalised communities, will come together to share, learn and build ties. You will be able to attend different activities like interactive dialogues, panel debates, political discussions, art interventions, and other cultural festivities that will help everyone connect. The democracy festivals will also give you a chance to meet local decision makers and have your voice heard. Each festival is planed together with local partners to make sure the chosen topics are relevant to your community and that everyone's needs are met.
where will they take place?
The Democracy festivals will be held throughout late 2023 and in 2024. All activities will be in the local language of each area:
Poland - Polish Council of Youth Organizations (PROM)
Romania - Romanian National Youth Council (CTR)
Slovakia - Slovak Youth Council (RMS)
Bulgaria - National Youth Forum of Bulgaria (NYF) - Democratic Mosaic: Civil Society Scene, 17/09/2023, Sofia
Croatia - Croatian Youth Network (MMH)
Slovenia - National Youth Council of Slovenia (MSS)
Cyprus - Cyprus Youth Council (CYC)
Italy - Italian Youth Council (CNG)
Spain - Spanish Youth Council (CJE) & JEF Spain
Ireland - National Youth Council of Ireland (NYCI)
Latvia - YOU+
Lithuania - Lithuanian Youth Council (LiJOT) - Start of the school year at the Democracy Festival, 1-2/09/2023, Klaipeda
Austria - Austrian National Youth Council (ÖJV)
Belgium - Erasmus Student Network (ESN)
France - Old' Up
More information on when each festival will take place and how to participate coming soon.
Shaping Europe
The third and final pillar of the MEET project will offer you a chance to engage directly with policy makers. You will be able to participate via an interactive online platform, sharing your daily experiences living in Europe, as well as be part of democracy in action through local meet-ups with candidate MEPs in Austria, Bulgaria, Croatia, Cyprus, Ireland, Lithuania, Slovakia, and Slovenia leading up to the 2024 EU elections. And stay tuned for the online launch of our Intergenerational Declaration, crafted together with AGE.
Related news and publications
Publication - 28/04/2023
This is a 20-hours training programme, organised in 10 sessions that can be delivered either online or offline. These guidelines are set up for trainers and facilitators who want to implement this training programme in their own organisation or within their own youth group.
Read more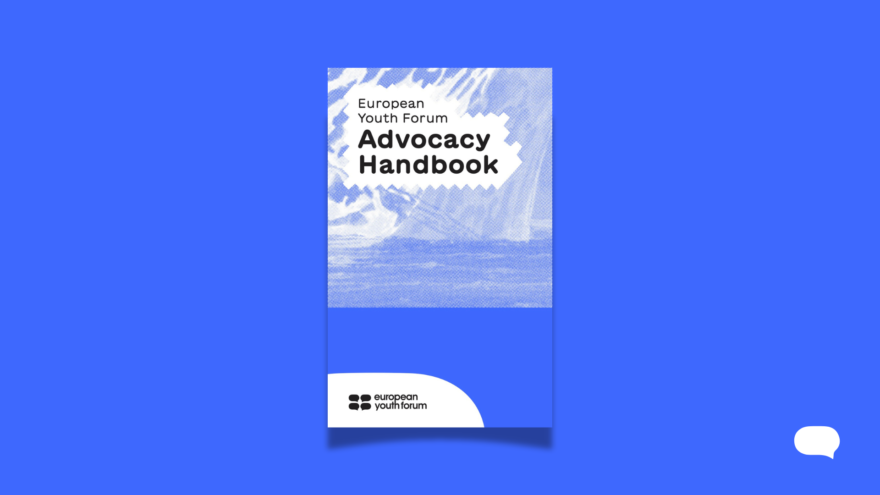 Publication - 02/02/2022
In this handbook you will find the keys to engage in meaningful advocacy action: core concepts you need to master, practical frameworks you can follow to plan your actions, do's and don'ts to avoid the most common mistakes, and inspiring examples from the NGO sector.
Read more